Each transparency item consists of the following sections: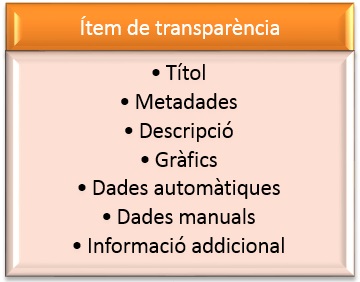 THE TITLE
The title of the item is an uneditable field by the entity.
When you have an item displayed, you will notice that next to the title there is a button with the symbol of a question mark . Clicking on this icon will redirect you to the support portal which explains what the item in question means.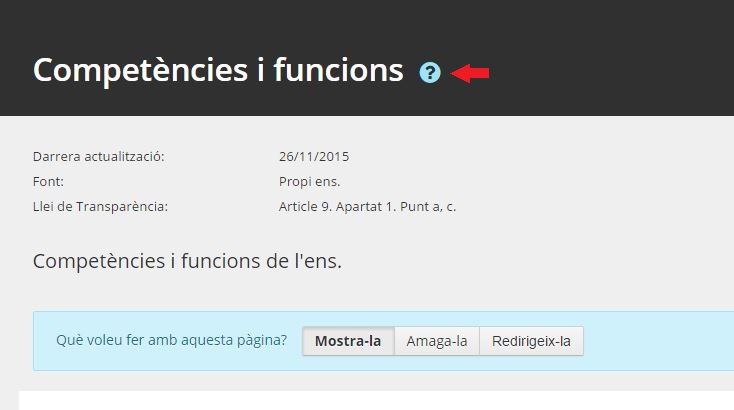 THE METADATA
Metadata is the data that appears at the bottom of each item and provides us with information about it. The following information is reported:
Page last updated
Source of information (the body itself, the departments of the Generalitat de Catalunya, provincial councils, etc.)
Article to which it complies in relation to Law 19/2014 , on transparency, access to information and good governance
International Transparency Indicator and / or InfoParticipate in the reference (if applicable).
Classification in the standardized municipal documentary classification table
The content of this field is not editable by the entity, but the entity does have the option to hide or show the data.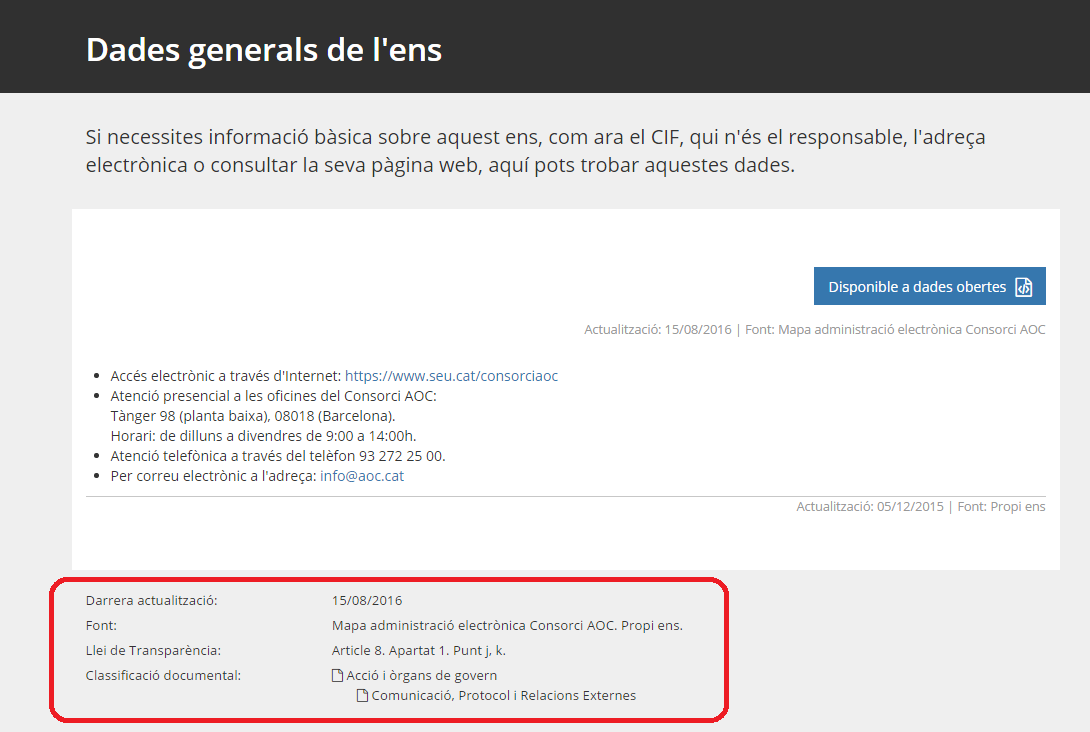 To disable some of the metadata, go to the Administration tab and select "Settings".

Then, when you click "Customize Transparency", the option to hide or show the data (yes or no) will appear. Clicking "save" will save the changes and only show the metadata we left visible with the "yes" option. This change will apply to all items equally.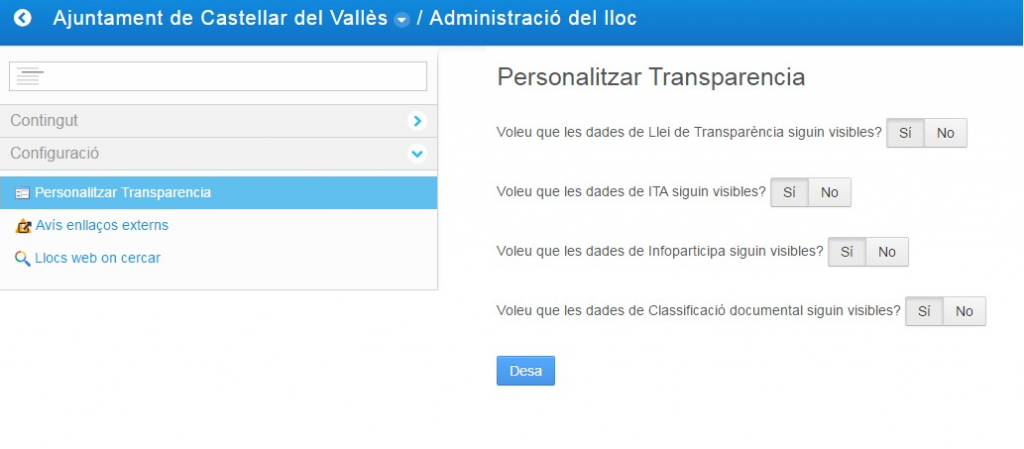 THE DESCRIPTION
It is an explanation for the public to understand what that item refers to.
When you edit an item, below the citizen description you will see the option to customize it.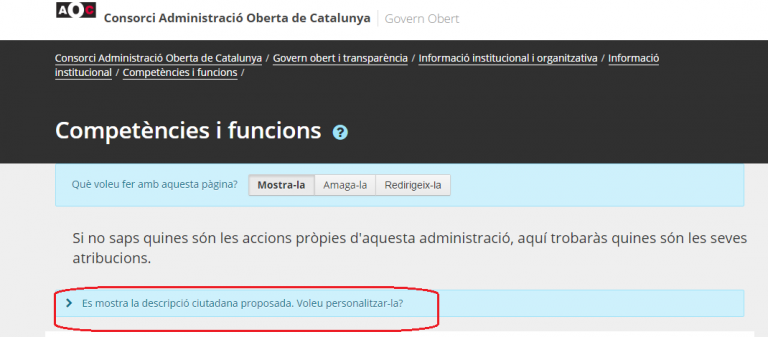 Si cliques a "voleu personalitzar-la", es mostrarà un apartat on pots escriure la descripció personalitzada, tant en català com en castellà.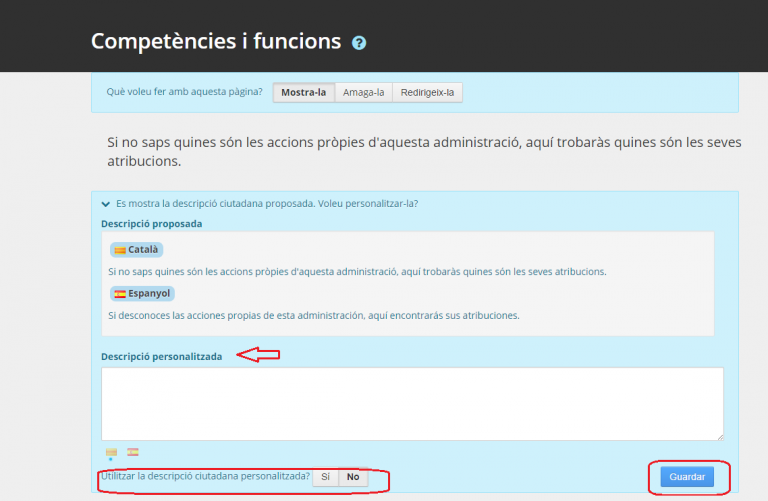 Once edited, you can decide whether to use it (show) or not. To finish editing the description, click on "save".
AUTOMATIC DATA
In order to facilitate the administrative work of local bodies, it is guaranteed that the numerous public information that they send to supra-municipal bodies or that is generated with the use of the products and services of the AOC Consortium will be automatically published in the transparency service. aim to avoid duplicating administrative tasks of sending or publishing information.
This data field is not editable by entities, but you can decide whether to enable the data and graphics display option.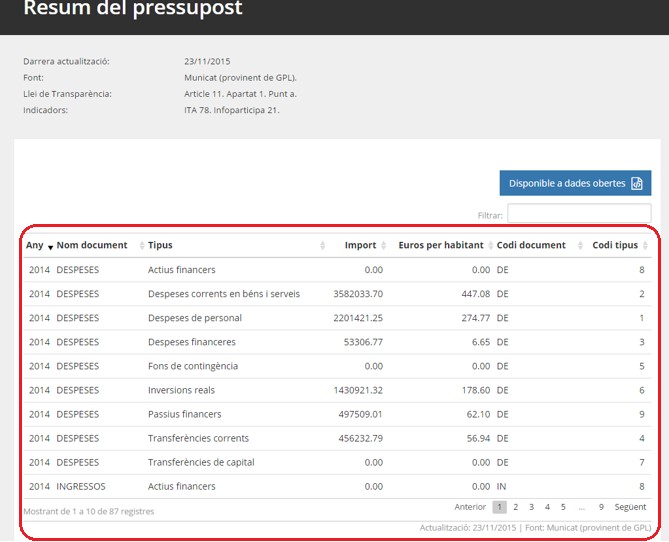 MANUAL DATA
There will be times when item data will need to be entered manually, either because it is a manual or because you want to publish additional data or instead of automatic data. Therefore, it is a data field that can be edited by entities.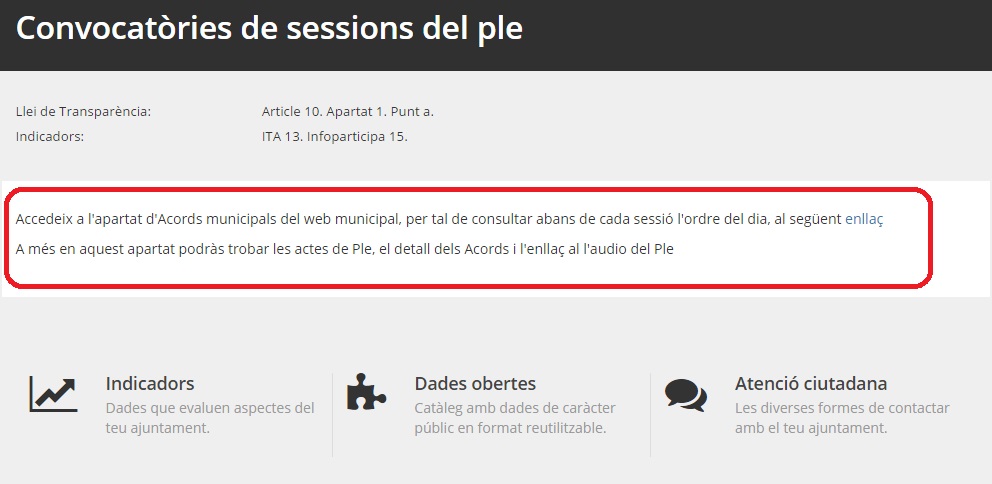 ADDITIONAL INFORMATION
This section allows you to add links to redirect to other web addresses where you have more information about the item, as well as the upload of files, in case you want to include attachments to the item in question. This data field is editable by entities.